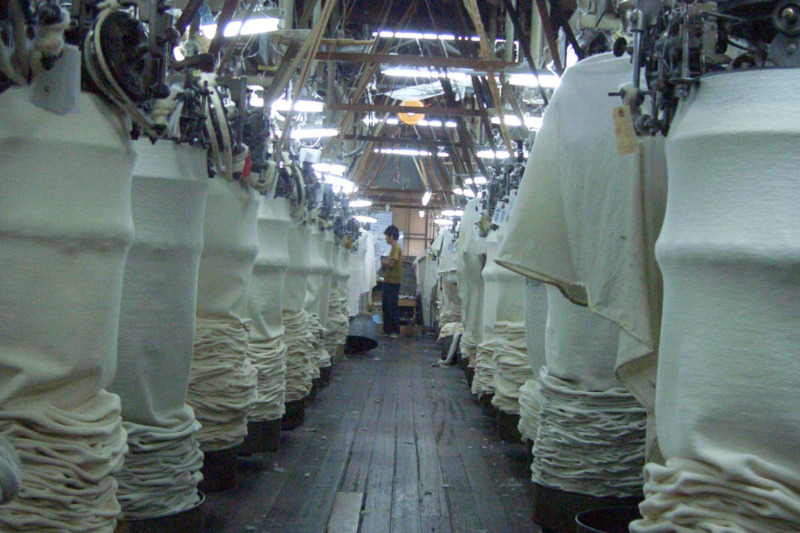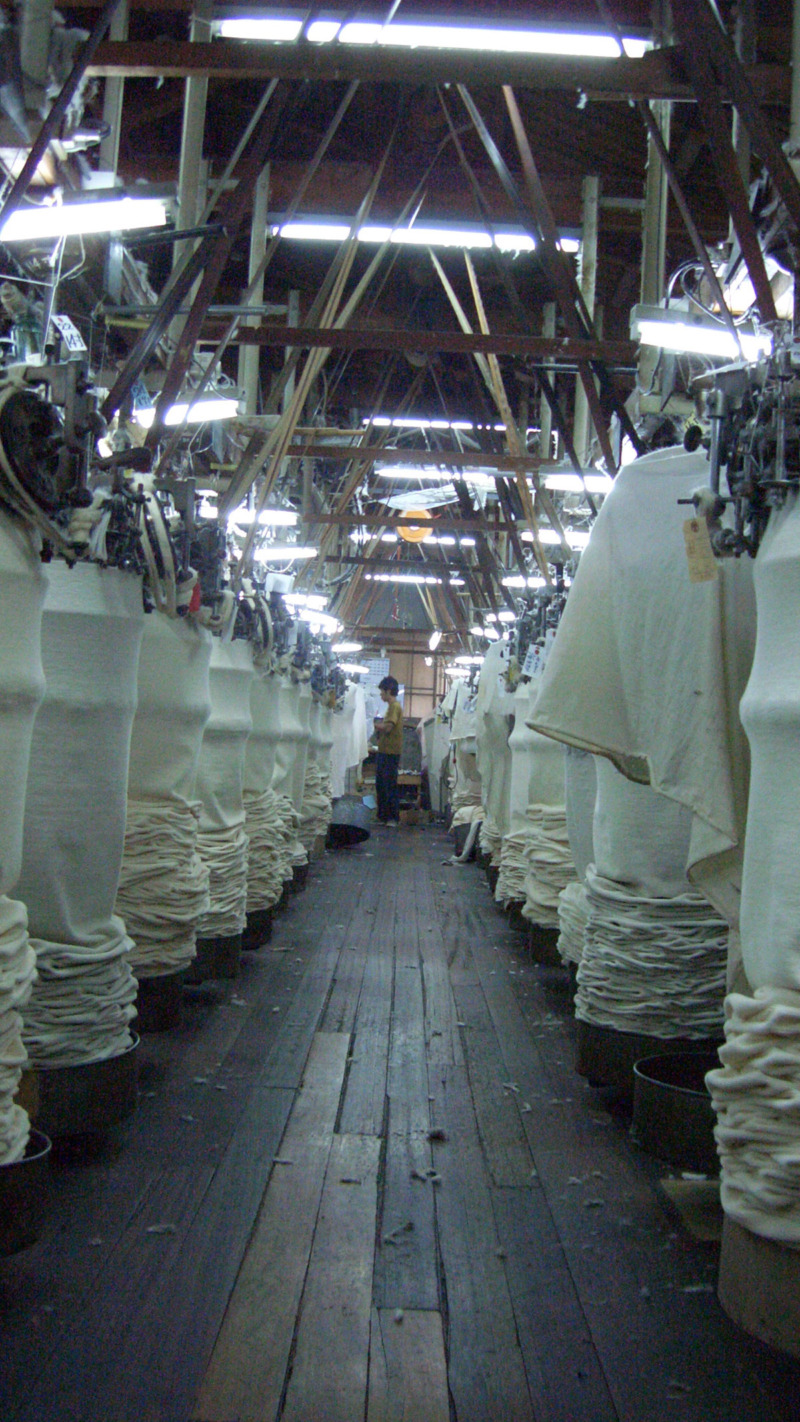 Kanekichi Knitting Company
– Wakayama, Japan
Kanekichi Knitting Company
– Wakayama, Japan
Our t-shirts are knit in Japan, at the Kanekichi Knitting Company in Wakayama. They are one of the few remaining Japanese knitting companies that use "tsuriami-ki" or loop-wheel knitting machines. These machines come from a time when quality and precision were paramount in garment manufacturing. They can knit a variety of fabrics, such as reverse weave sweat shirts, heavy weight fleece knit, nep and the list goes on… Several factors set these machines apart from sinker type circle knitting machines, and high-speed industrial knitting machines.
Two threads at a time
The loop wheel machine is a machine that does not knit at a high speed. It takes two or three days to knit what other machines can do in a couple hours. The reason why the loop wheel knitters are so slow is that they only knit one or two threads at a time. This creates a very nice "slubby" texture. This texture is desirable for natural dyeing as well.
Tensionless operation
The second difference is the lack of tension during the actual knitting operation on the machine. Sinker type high-speed knitting machines need a high-speed knitting operation in order to maintain efficient knitting. The loop-wheel knitting machine gently moves the threads into the needles and the knitting operation is done quite smoothly.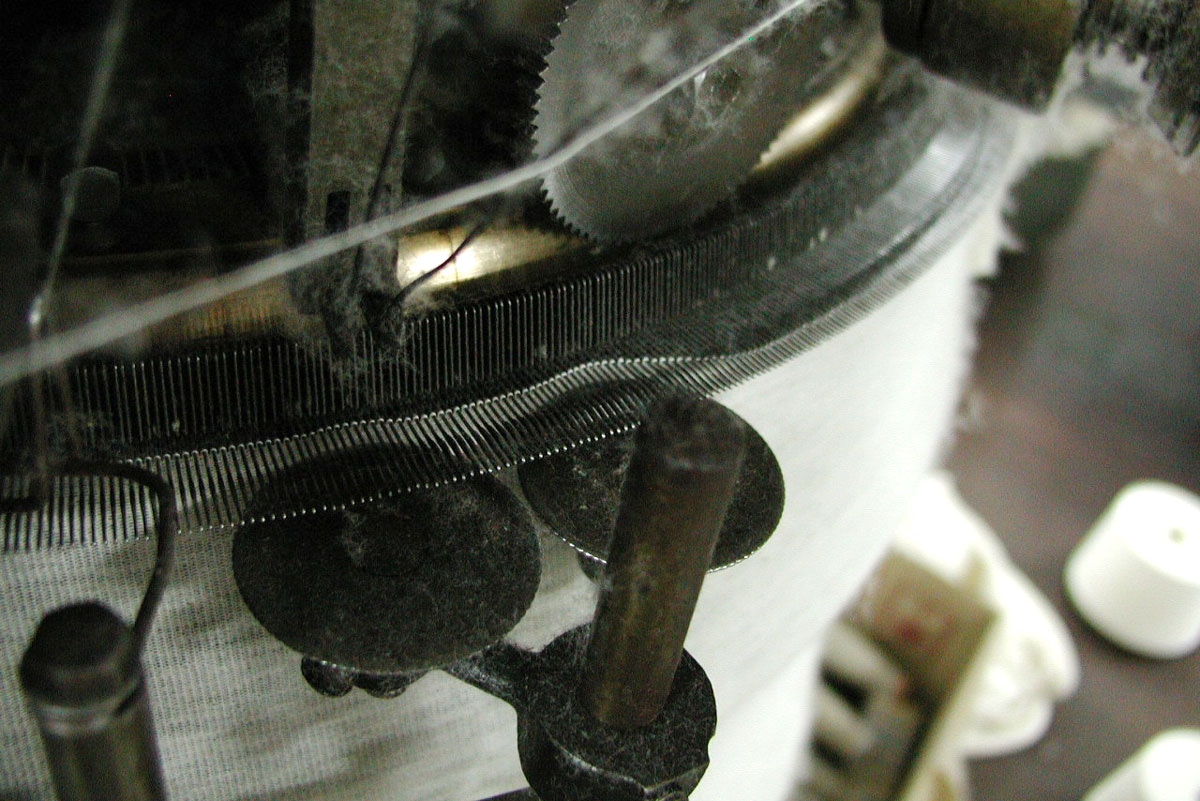 Bearded needles
The standard knitting machines used in most factories use latch needles that yank the thread down. The bearded needles keep the knit fabric fixed to the machine and which helps maintain the fluffiness and softness of the fabric. For organic cotton, this is an idea feature.
A thousand needles set by hand
Each tsuriami-ki has more than a thousand beaded needles set on them. Each of these needles is set by the hands and eyes of craftspeople that maintain and keep the machines running. This entirely analog process also keeps the quality of the finished fabric consistent.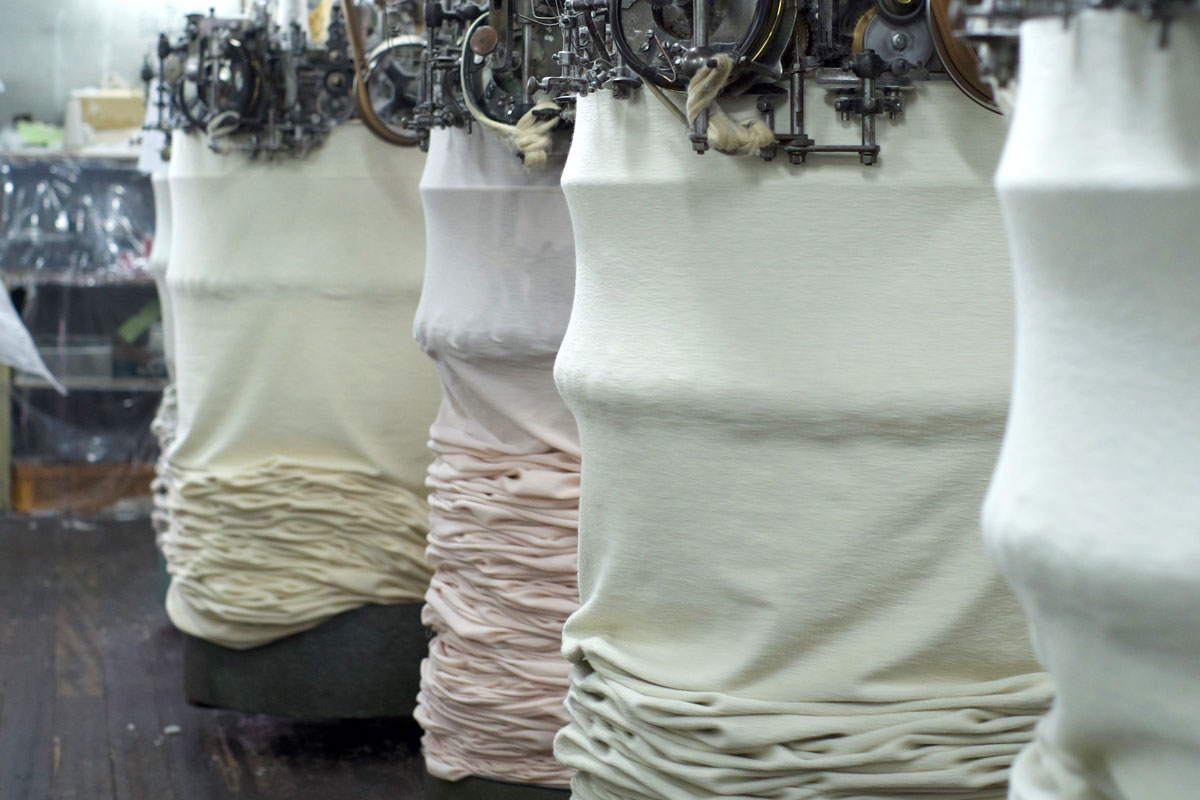 No tension after knitting
Once the fabric is knit, it falls gently onto a carriage underneath the machine. This allows the fabric to relax and breathe. This doesn't put any unneeded tension or pressure on the fabric. High-speed machines on the other hand roll the fabric onto a sinker, which tightly stretches and rolls the fabric.
Lossless fabric
For tezomeya, this is the best material to make our t-shirts. The combination of organic cotton and the loop-wheel knitting machine makes the most complete t-shirt. There is nothing lost in the knitting process, and the organic cotton is desirable for natural dyeing. Our hope is that we take nothing away from the natural beauty that nature already has provided.