tezomeya Blog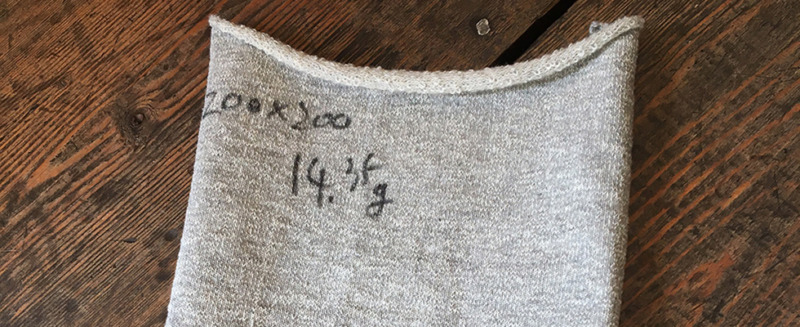 Luck never happens from what is only lucky
"Loop-wheeled knit"
It is a material of tezomeya who debuts newly since autumn / winter last year.
In an accurate way of saying
"Table 16/20 back hanging reversible style (back side slight loop out)"
Will be long, knit.
Owner's work is late, eventually I have not been able to make a debut on the site, but items using this material are on display at Kyoto's shops since last November both in women and men.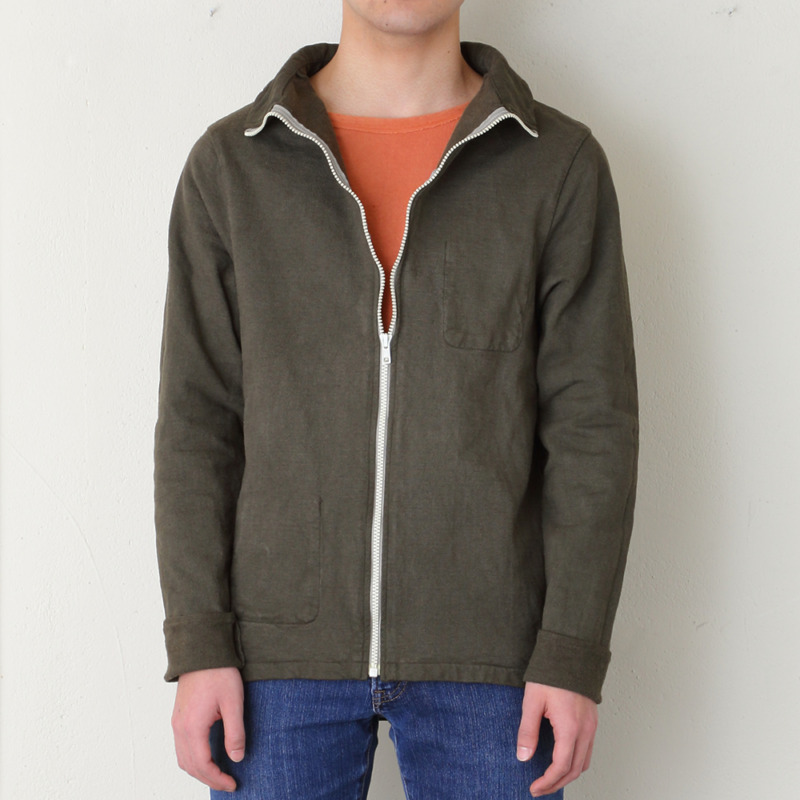 A knit that is knitted by Kanekichi Industrial Co., Wakayama.
Not limited to this material, all knit materials of tezomeya have been knitted with a hanging knitting machine of Kanekichi industries here.
Have the raw machine (knitted) that has been knitted delivered as it is, sew it at a good sewing place scattered around the Kansai centering on Kyoto, and it becomes clothes.
It is the calculation that it is dyed in our workshop.
Even if this material, jacket and pants are made to stretch eyes firmly so that it does not stretch too much, in order not to get heavy, we have been adjusted to finish as lightly as possible.
Firmly closing your eyes, lightly …
This Kanekichi industries is doing it without difficulty to do such inconsistent work.
Okaya, senior managing director, also says, "Do not say anything bothersome as usual" (laugh), but I am working hard.
Thank you very much.
This time, this material is planning shorts for spring and summer.
Easy to wear and easy to move, but not so hot.
And, because this fabric we knitted last September is all gone by the autumn and winter items, we ordered the same fabric again for spring and summer.
It came up in the middle of February.
As I said earlier, tezomeya will purchase dough as raw. The raw machine is a naked fabric that is not shrinkproofed or washing processed at all.
Therefore, when dyeing it shrinks in the vertical and horizontal directions. Of course we are doing a pattern design that takes that into consideration.
However, unlike steel plates, cloths inevitably contract differently. Even so, the fabric like this one that is making troublesome requests is much more likely to change its behavior on a lot-by-lot basis.
So, for the newly finished lot machine, we ask the workshop to put the fabric first, measure its basis weight (weight per area), and check how much it is different from the previous one.
When the basis weight changes drastically, try designing the pattern again by dyeing it to try to obtain a new reduction ratio.
This is a process not found in ordinary clothes, high.
By the way, I will explain again why I will use the greeting machine until such a troublesome thing.
I got a fabric about 1 m before this time and measured the basis weight.
Last season's lot in September was 358.68 g of flat basis weight (weight per square meter of cloth) when looking at fabric density reduction record data.
This cloth is 14.35 g in 20 cm square. Calculating from here, the flat basis weight is …
358.75 g! !
Huh? This is a cloth. It is not an iron plate, is it?
It is not great! What? The repeat unit basis accuracy is 99.98%! !
Regardless of this fabric, this work has been done for other fabrics as well, and Mr. Kanekichi will rise with amazing accuracy of more than 95% each time despite the unstable knit material, but this time surprised .
It is impossible for steel plates, though.
So, as I was surprised very much, when I telephoned and reported excited about Okaya Managing Director of Kanekichi Industry,
"Ah, that's why doing such a thing. Let's pick up so much … I'm afraid of the next time, Ha ha ha ha ♪"
I got an extremely pale white reply with.
Yes, I certainly think it is a lick. This fine difference is probably a level that changes with one of our scissors insertion method.
However, it is born because it is work of Kanekichi industries.
Even if Kanekichi industry knit comes up to the width of what kind of machine, if you dye it as a T – shirt, Pita 's all finished in the same width.
This is what I feel stained by more than 10 years, but I do not know Nitta who makes such precise greeting.
This is probably because there is a system for managing work at a very high level.
I have seen the factory many times, but the staff always move neatly, and the knitting machine always keeps moving neatly in sympathy with it.
From such accurate motion and process, certain materials are born.
And, in such highly accurate finish, occasionally, something of precision will be born to surprise.
Okaya senior management told it as "licking", but this level of "rider" is never born from the haphazard work. I think so.
Magic is not born from fluke.
It was an incident that I thought it was such a blunder thing this time.
Even I was surprised when I saw figures.
Kanekichi Industry, really thank you very much.
Thank you for your continued support from now on.