tezomeya Blog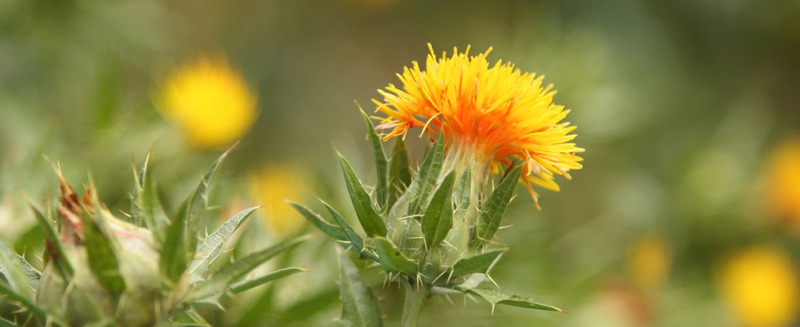 "Benibana" retreat, Safflower workshop
Yamagata safflower tour 2016 "held on Saturday, Sunday 16th and Sunday, 17th this month.
15 people who participated from the Kansai, Chubu, Kanto, Hokuriku, and Tohoku who responded to the recruitment, Ms. Kanako Inoue local volunteer staff and three staff members of the Yamagata, a total of 20 people in the rainy season I went on a journey of safflower by painting the interval.
Although it was not only fun but also a very hard work for me, it was a tasty event twice as tasty (self-praised sorry), but I will also hold a memorandum and hold an event holding report here.
In addition, the images of this report blog were offered from Mr. Mizuho Watabe who all participated.
Mr. Watanabe is a professional photographer and is hosting " Showa House Studio ". Mr. Watanabe, Thank you so much for providing us with images!
The forecast for the weather forecast was anticipated to rain in two days on both days, but it is a cloudy day that occasionally keeps coming when it comes to Saturday. As scheduled, everyone arrived at Yamagata station, and as it was, we went to the first stop, Mr. Masaaki Imono of Shirataka Town.
Mr. Konno is a local lawyer who is also working for a town councilor, and is named " Safflower's House " in Yamagata It is a big farmer who strives to disseminate safflower and red cake making.
When you arrive, there are dried red and rice cakes and random flowers.

This time it has just entered the second half of the safflower harvest season. Mr. Konno also said that he was busy making red rice cake and I was sorry I bothered with a large number of people during the big time m (__) m
Upon arrival, Imano will learn how to pick flowers from safflower, first of all go out to the field and pick the flowers.

"Receive flowers with their palms, put their thumbs on the flowers, pinch them with their thumbs and forefingers, take petals and put them on the palm"
It is said that this is quite difficult. Everyone scattering and picking flowers will go for a knitted bag that has been lowered to the waist.

After taking a solid firm, I will tell you how to make red rice cake.
Wash the petals taken with water. Petals are collected while there is a lot of yellow, but safflowers increase in redness after washing and fermentation from there.
The petals gradually got reddish over 4 to 5 days.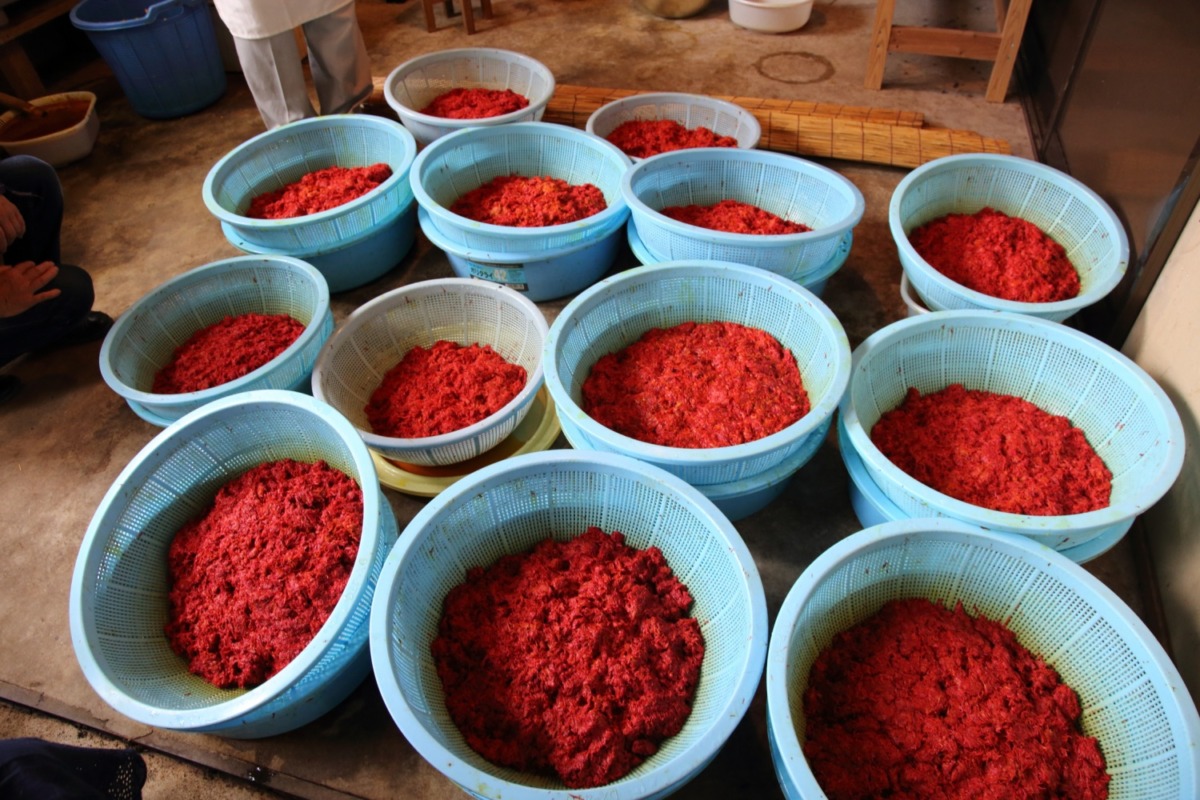 Crush the petals with firmly reddish on a small rounded top rice cracker, squeeze it upside down, raise it upside-down and dry up, and finish the red rice cake.
Since safflower is not intrinsically strong against sunlight, it seems to finish with a sun-dried sun every day so that it can be dried at once in a short time.

After learning how to make red grub cakes, it is easy to have a safflower dyeing experience.
Mr. Kono puts in cotton handkerchief each dressed in safflower which had been prepared in advance, cotton candy with a strange pattern of each one of you. Put it in the liquid and get the vinegar in (the color of the red flower is fixed with acidity), it is finished.

I took nearly 3 hours of safflower picking, making red cakes and dyeing, and I left Konno's house behind.
Next I headed to Zao's Sagae-san's house. Mr. Masao Sagae is a consecutive sericulture farmer. I will tell you the story of growing silkworms and making them cocoon with living and behaving that is unlikely to be 79 years old.

Yamagata is particularly active from the Meiji era in sericulture, and it is said to have been the production place next to Nagano and Kiryu, but as with other famous places, Yamagata can not be too much and the current production volume is very small. In the past, it was only sericulture farmers from here and there, but now it is about several in the prefecture. It seems that all the raised cocoons are shipped to Sakata 's thread store (Matsuoka Co., Ltd. is famous for that Matsuoka Hime).
Unfortunately during this time it was a time when there were no silkworms, but at that large spreading ceremony site I caught a story of a white caterpillar.

There is no picture, but when you look up, the silkworms who became adults in some places. . Of course, he died, but that figure that was too white, was a little divinely. And I knew for the first time that even the silkworm caterpillar crawling crawls threads and strings. When I read a silk breed improvement book before, I saw the contents that the legs of silkworm larva degenerated and can only crawl in plain, but that is not the case, When. They are also tight insects.
Arrive at Zao Onsen "Lodge Chitoseka" today, leaving home Sagae river. Zao enjoyed many baths from all over the world with many outside baths, and got Genghis Khan at night.

After the meal, the banquet continues in the lobby of the inn, but it is another story.
I entered the futon comfortably while listening to the water sound of a nearby river.
——————————
On the second day I went to Kawakita-cho as a way after I left Lodge Chitoseya. I will head to the Sake Material Museum.
On the way, Mr. Inoue I saw the oversized pot which is used for Yamagata specialty Oomizakai with the stylish taste of the mother and the driver.

It was big.
The safflower museum is a house of the Horin family who once used to be the region's richest man, rebuilt its buildings and gardens, and it is managed by Hebei Town.
In the specialty museum where 5,000 precious relics are preserved, including things that are related to safflower, the third visit including personal visits is here. It is my favorite museum.

And the guide is indispensable for enjoying this museum more than enough. If you ask in advance, how professional guide will be attached free! And speaking of the special guide of this museum, Mr. Maki.

Mr. Maki What a 90 year old this year! However, I can not believe that my graduation has passed. I'm fine. It has not changed at all since 8 years ago. It was a guide that I thought was rather power-up compared to it.
Mr. Yuzuko Horiyama, a prominent violinist who is active in Europe, is a direct descendant of Mr. Honma who is still here in Europe, and interwoven with the story of that "Yuzuko Oya" while interwoven while Yamagata and safflower 's inseparable rim I got a lot of stories and explanations.
Although it can not put out much images inside the building because it is forbidden shooting, even for valuable items that you can not enter if you do not want it, even if you forgive us for forgiveness or let us put it in a room that does not open, let me study fun very much I got it.
Mr. Maki, thank you for everything again next time! !
Although the contents of the original tour are finished at the visit of this safflower museum, this is also arranged by Mr. Inoue's mother, visiting the Kashiwakura family in Nakayama Town and visiting precious relics there, and further Yamagata University Humanities Department We held an optional event that allows professor Kotaro Iwata's mini lecture to be held.
I arrived at the Kashiwagura family in Sapporo Museum about 20 minutes by bus.

Turbulent flowers of safflower brought up by safflower preservation parties in Nakayama town were dried.

This Kashiwagura family is also a millionaire in this part. Our head owner still lives in the mansion, the owner himself introduced us your residence. Let me see a lot of rare artifacts (or something that can still be used), entering into the story of Professor Iwata while hearting the history of the prosperity of the Kashiwakura family.
The professor was specialized in the economics of the Edo period, and while studying the old documents and records remaining in Yamagata's large wholesale store including the Kashiwakura family, the prosperity of the Mogami area at the time was studied from the point of paleoeconomics It is.
Lecture by borrowing a room in Kurashikura family's warehouse. I talked about safflower and economy since the Edo period centered on the Mogami river basin. For example, since safflower has been harvested by successive productions, it has been adopting the converted farming method (planting different crops every year) early, that it was dispersing profit without having to focus on one agricultural product or industry, From the beginning of the Meiji period, I was able to accept the real decline of safflower by the rise of synthetic dyestuffs from early on and turned into sericulture, so I was able to tell you a very substantial and brief story. thank you. And it was too much content as a story of finishing the last tour. Professor Iwata, thank you very much m (__) m
And after the lecture it disappears seriously at the Kashiwakura family here. Everyone returned to JR Hakemae Nagasaki station near you, and I came back from there.
——————————
This tour was also really fulfilling content, but what I did very important work for that was Setsuko Inoue of Nakayama Town Sake Flower Preservation Association who participated as a local volunteer staff,

And it was Rie 's eldest daughter.

In addition to referrals of your visits, please consult with your visiting routes or arrange for a second party. Bridge with Mr. Iwata, especially the connection with the last Kashiwagura house was all Inoue's content. Pickles, cherries and sake received at the second party party were really delicious. Mr. Inoue, thank you very much.
And, of course, thanks to the cooperation of everyone who participated in this tour we enjoyed the most.
Everyone who participated, Thank you very much! Please also let me have another opportunity!

Hand-smelling shop
https://www.tezomeya.com/