tezomeya Blog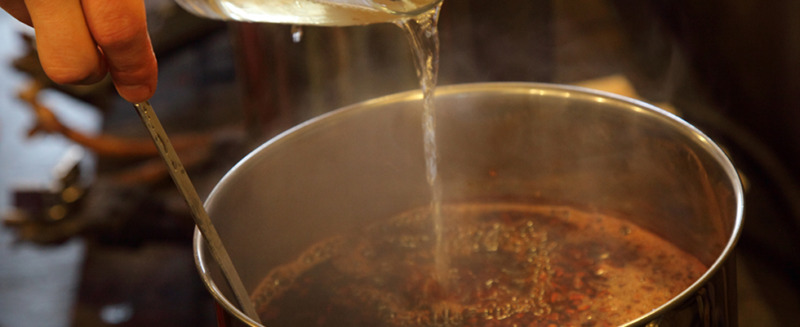 Natural colors and free re-dye
The chemical dye which gathered the trend of contemporary science is really excellent.
Especially, "reactive dyestuff" developed exclusively for dyeing cotton material is devised at the molecular structure level so as to be dyed strongly and robustly in cotton which is not easily stained even if it is originally synthesized dyestuff.
As soon as I debuted in 1956, I redesigned the dyeing environment of vegetable fibers all over the world, such as cotton and hemp.
Convenient modern where use of chemical dyes realizing extremely high quality color fading difficulties became common.
Dyeing with plants that have been left behind far behind the development of science can not be difficult to compare in terms of quality no matter how ingenuous it is ….
Creative ingenuity to make colors as strong as possible and hard to fall down is one of the most important tasks since the start of the studio, and their consciousness is ongoing every day, but as compared with modern chemical dyes, color change quickly arrives It can not be avoided inevitably.
So, after service from tezomeya started at the studio " dyeing and overlay free service " .
If you change the color of the tezomeya item and it gets faded out, please leave it to us. We will dye and dye free of charge.
In that case, it is also possible to change the original color as well as another favorite color.
This Dyed Overlay Free Service is also effective until the product becomes unusable, such as being broken. If you can use items of tezomeya carefully, you can enjoy many colors with one piece.
It is a service for many people to enjoy the colors of plants easily and for a long time even by one person.
Feel free to "have a refill for dyes" any time. And we are very happy if we can keep drinking goods handy until they are worn out.
here for more information on dyed lick free service